Link Live Streaming Play Off Leg 2 AFC Asian Cup 2022 China vs Indonesia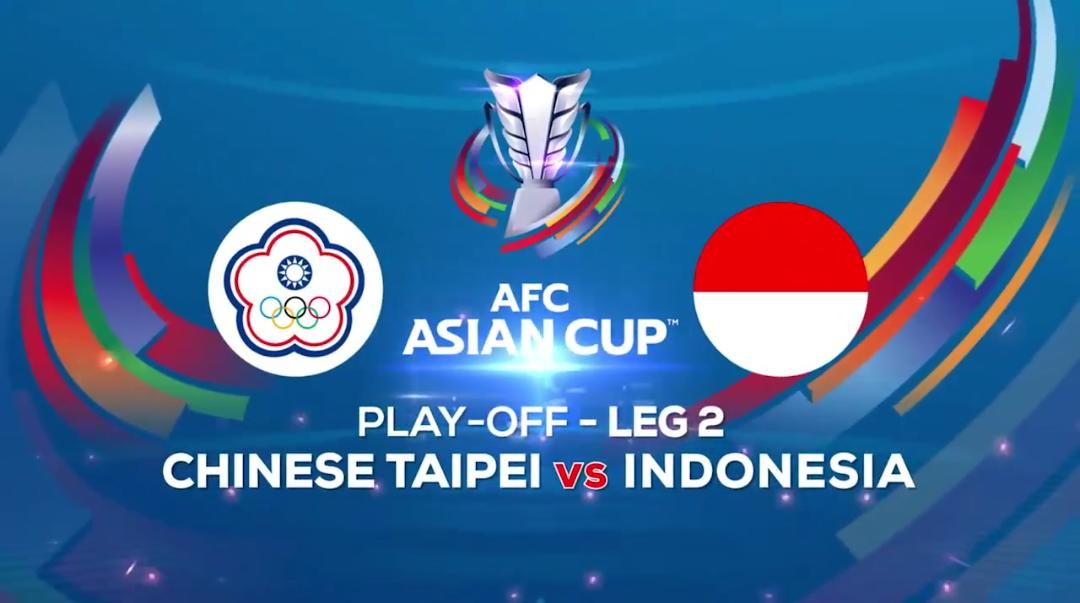 Link Live Streaming Play Off Leg 2 AFC Asian Cup 2022 China vs Indonesia -
Live football schedule on television this midweek, 12 to 15 October 2021. There are matches from Liga 2 and 2022 World Cup Qualifiers.
A number of exciting parties will be presented in the middle of this week, starting from PSIM Yogyakarta vs Persis Solo to Brazil vs Uruguay.
Not only that, there are several other matches that are a pity to miss. Immediately, this is the complete schedule of national television shows for the period 12 to 15 October 2021.
MONDAY, OCTOBER 11, 2021
20:00 WIB - Taiwan vs Indonesia - Indosiar, Video
LEAGUE 2
TUESDAY, 12 OCTOBER 2021
18:15 WIB - PSIM Yogyakarta vs Persis Solo - Vidio
WORLD CUP 2022 QUALIFICATION - UEFA
TUESDAY, 12 OCTOBER 2021
01:45 WIB - Belarus vs Czech Republic - Mola
01:45 CEST - Croatia vs Slovakia - Mola
01:45 CEST - Estonia vs Wales - Mola
01:45 WIB - Iceland vs Liechtenstein - Mola
01:45 WIB - Latvia vs Turkey - Mola
01:45 WIB - Netherlands vs Gibraltar - Mola
01:45 WIB - North Macedonia vs Germany - Mola
01:45 WIB - Norway vs Montenegro - Mola
01:45 WIB - Romania vs Armenia - Mola
01:45 CEST - Slovenia vs Russia - Mola
21:00 WIB - Kazakhstan vs Finland - Mola
WEDNESDAY, OCTOBER 13, 2021
01:45 CEST - Albania vs Poland - Mola
01:45 CEST - Bulgaria vs Northern Ireland - Mola
01:45 WIB - Denmark vs Austria - Mola
01:45 WIB - England vs Hungary - Mola
01:45 CEST - Faroe Islands vs Scotland - Mola
01:45 WIB - Israel vs Moldova - Mola
01:45 WIB - Kosovo vs Georgia - Mola
01:45 WIB - Lithuania vs Switzerland - Mola
01:45 WIB - Portugal vs Luxembourg - Mola
01:45 WIB - San Marino vs Andorra - Mola
01:45 WIB - Serbia vs Azerbaijan - Mola
01:45 CEST - Sweden vs Greece - Mola
01:45 WIB - Ukraine vs Bosnia & Herzegovina - Mola
WORLD CUP 2022 QUALIFICATION - CONMEBOL
FRIDAY 15 OCTOBER 2021
03:00 WIB - Bolivia vs Paraguay - Mola
04:00 WIB - Colombia vs Ecuador - Mola
06:30 WIB - Argentina vs Peru - Mola
07:00 WIB - Chile vs Venezuela - Mola
07:30 WIB - Brazil vs Uruguay - Mola
WORLD CUP 2022 QUALIFICATION - CAF
TUESDAY, 12 OCTOBER 2021
02:00 WIB - Libya vs Egypt - Mola
20:00 WIB - Namibia vs Senegal - Mola
20:00 WIB - Zimbabwe vs Ghana - Mola
23:00 WIB - Congo vs Togo - Mola
23:00 WIB - Niger vs Algeria - Mola
23:00 WIB - South Africa vs Ethiopia - Mola